Posted by Ghost Scream Hot Sauce on Dec 21st 2021
You know our Ghost Scream team loves all things ghost peppers. But did you know that we're awfully fond of the Trinidad Moruga Scorpion Pepper, too?
It's true! In fact, we love it so much that we've added it to our Ghost Scream Vindaloo Curry Hot Sauce. This specialty hot sauce has a unique kick that you won't find anywhere else.
Here's everything you need to know about the Trinidad Moruga Scorpion Pepper and why it is so special—plus details of where you can find it in our online hot sauce store.
1. It Originated in Trinidad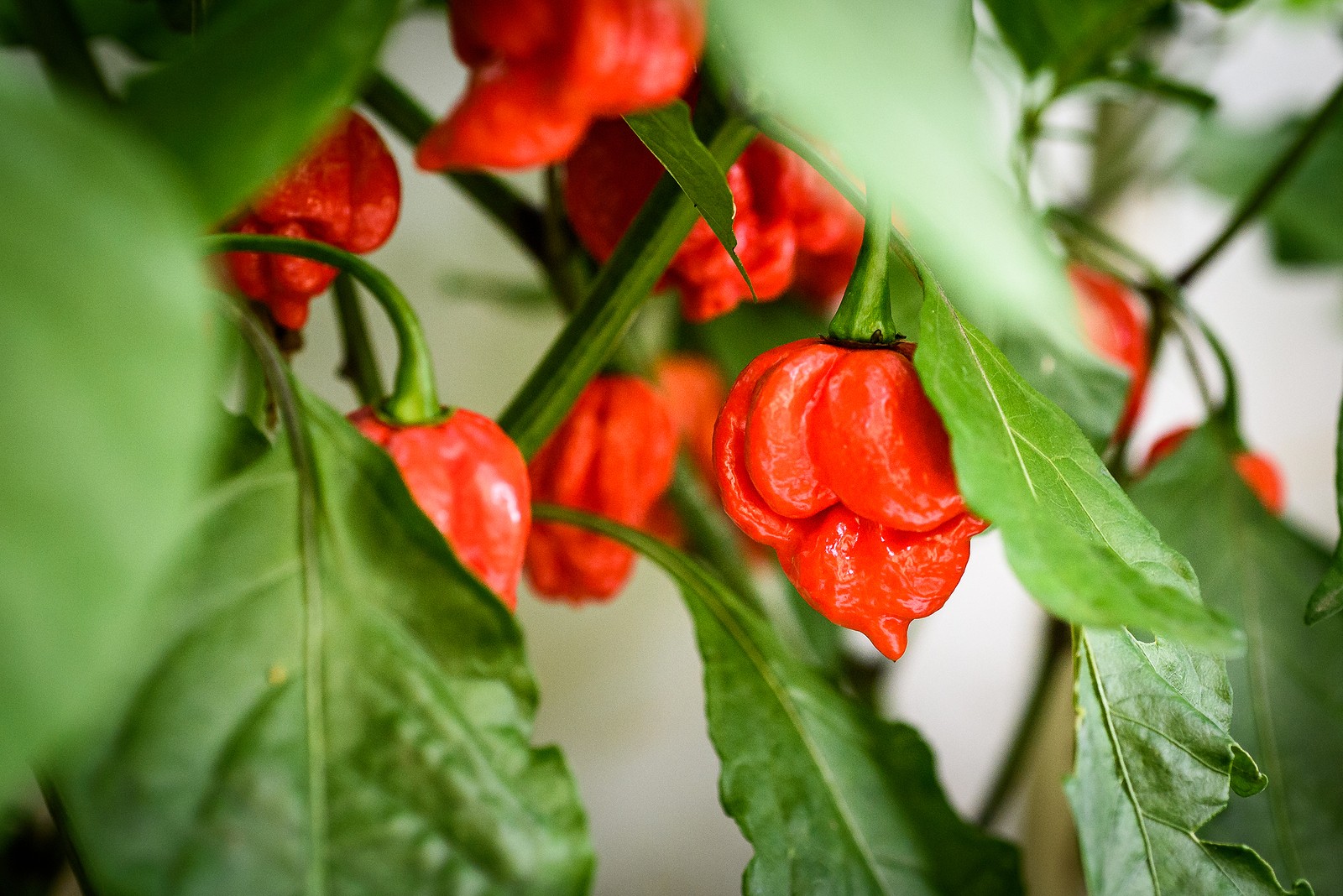 As the name suggests, the Trinidad Moruga Scorpion Pepper comes from Trinidad, an island country off the northeastern coast of Venezuela. It's technically a variety of Chinese pepper and is easily recognizable by a bright red color and small appearance. However, don't be fooled by its tiny appearance—big things really do come in small packages when it comes to these peppers!
2. The Pepper is the Second Hottest on Earth
The Scorpion Pepper is deemed the second hottest pepper on the planet, only surpassed by the infamous Carolina Reaper. At over 2,000,000 SHU, the heat factor alone makes them one of the most notorious and dangerous peppers out there. In fact, it is up to 800 times hotter than a traditional jalapeno and eating one raw can lead to some unpleasant symptoms.
3. Don't Be Fooled By the Flavor
If you were to take a bite of a raw Scorpion Pepper, you might be fooled by the sweet and fruity taste. The truth? Within just a few seconds, that capsaicin hits and you'll be begging for mercy while experiencing sweating, numbness, and intense hiccups due to muscle spasms. Yeah, not exactly a fun way to enjoy spicy foods, right? It's why many people opt for a dash of flavor within a product, like our Ghost Scream Vindaloo Curry Hot Sauce.
4. The Bragging Rights
So, if it is so intensely hot, why would anyone ever want to eat a Scorpion Pepper? Well, we kind of liken it to skydiving—jumping out of a perfectly good airplane is somewhat of a badge of honor. Among those who really, really like hot foods, being able to say you've eaten one of these babies is kind of a big deal. That said, others just prefer getting a little taste in our gourmet hot sauce for a little bit of a kick, which is quite alright.
5. Numbness is Common
Another thing that makes the Scorpion Pepper hotter than any other? Those that grow or process the peppers must wear special gloves while doing so. The capsaicin level is still high enough that sometimes the gloves aren't enough, allowing the substance to touch their skin. The result is numbness in the hands for weeks or even months at a time.
Not ready to try the Scorpion Pepper just yet? Don't worry. All the ideas listed below are easy to substitute our traditional ghost pepper hot sauce.
Scorpion Pepper Dip
One of the easiest ways to impress guests at your next dinner party or get together is with this tantalizing Scorpion Pepper Dip. The best part? It's super simple to make. Just mix one 16-ounce container of sour cream with as much Ghost Scream Vindaloo Curry Hot Sauce as you can stand. The good news is that the dairy in the sour cream cuts through some of the intense spiciness, leaving you with a flavorful dip great for serving with veggies, flatbread triangles, or even wheat crackers.
Thai Coconut Curry Chicken and Rice
If you're looking for a great dinner idea, then you'll love our version of Thai Coconut Curry Chicken and Rice. Start with several boneless skinless chicken breasts and chop them into bite-size chunks. Season with a little salt and pepper, then brown them in a teaspoon of olive oil in a skillet. Remove the chicken from the pan and set it aside. Add your favorite veggies, such as bell pepper, broccoli, snap peas, or whatever else you have around the house and sauté them until softened. Stir in a can of coconut milk, 1/4 cup lime juice, two teaspoons curry powder, and enough Ghost Scream Vindaloo Curry Hot Sauce to taste. Once simmering, fold in a cup of your favorite dried rice. Cover and heat on low for about twenty minutes until the rice is cooked. Add the chicken back for the last few minutes to warm it up and enjoy.
Creamy Vindaloo Curry Salad Dressing
Kick your next salad up a notch with this recipe for our favorite creamy salad dressing. Mix 1/2 cup full-fat mayonnaise, one cup sour cream, 1/2 cup buttermilk, 1/2 teaspoon red wine vinegar, 1/2 teaspoon olive oil, 1/4 teaspoon salt, 1/4 teaspoon pepper, and two teaspoons sugar in a bowl. Add Ghost Scream Vindaloo Curry Hot Sauce until you've reached your desired level of spiciness. Store in a glass jar and let the flavors mingle overnight. We promise you'll love it!
Some Final Facts About the Trinidad Moruga Scorpion Pepper

When it comes to the hottest peppers on the planet, the Trinidad Moruga Scorpion Pepper has rightfully earned its second-place posting. With an intense 2,000,000 SHU and a heat that sneaks up on you, there's no wonder most people tend to enjoy it in small increments in specialty hot sauces and flavorings—like our Ghost Scream Vindaloo Curry Hot Sauce.
Which is good news if you have always wanted to try the Scorpion Pepper. Whether you're ravenous for reds or have a passion for green hot sauce, our online store has the best Ghost Scream flavor to suit your needs. Plus, we even have keto hot sauce for those with dietary requirements. Visit our product page now for details.