Posted by Ghost Scream Hot Sauce on Feb 12th 2021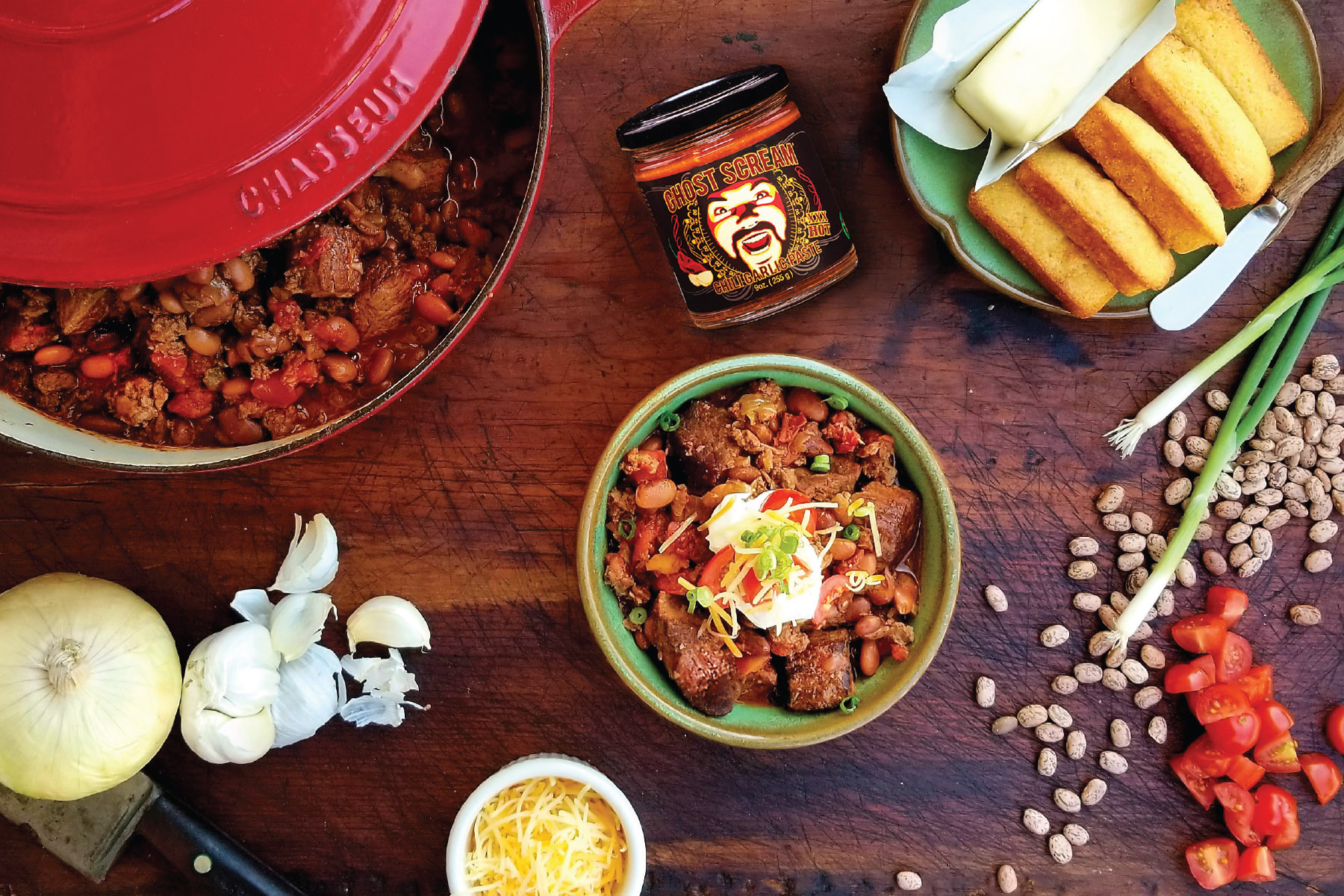 If you are craving a hot, hearty meal, there's nothing like a fresh bowl of Big Game Chili to satisfy your appetite. The Chili Garlic Paste really adds a smoky, garlicky kick! Try substituting ground turkey or veggies as other options. Don't forget your homemade cornbread with whipped butter and Ghost Scream Chili Garlic Jam!
Ingredients:
5 lb Ground Big Game Meat...Moose, Elk, Buffalo,Venison
3 lb Stew Big Game Meat.... (or Beef)
4 tbsp Olive Oil
2 ea Yellow Onion - diced
12 Cloves Garlic- minced
32 oz Stewed Tomatoes
32 oz Cooked Pinto Beans
32 oz Water or Beer
4 tbsp GHOST SCREAM® CHILI GARLIC PASTE
4 ea Bay Leaf
6 tbsp Chili Powder
4 tbsp Kosher Salt
4 tbsp Smoked Paprika
2 tbsp Ground Coriander
2 tbsp Ground Cumin
2 tbsp Ground Black Pepper
2 tbsp Old Bay Spice
2 tbsp Tomato Paste
1 tbsp Brown Sugar
Directions:
Heat the olive oil in a large pot and brown the stew meat. Remove the browned meat and sauté the onions in the same pot. Add the ground meat and brown. Add all dried spices, tomato paste and garlic. Cook together until fully incorporated then add back the stew meat. Pour the stewed tomatoes and water or beer into the pot. Then add the cooked pinto beans and Ghost Scream® Chili Garlic Paste. Turn the heat to a low flame and braise the chili for 3-5 hours, stirring and adding water or beer to keep the chili moist and from sticking to the bottom of the pot. The chili is done when the stew meat is falling apart tender and the liquid is thick. Adjust seasoning and Enjoy with Eyes Wide Open!
Serves 8-10 people