Posted by Ghost Scream Hot Sauce on Mar 17th 2022
Food should be fun and flavorful, and adding spicy vegetables to your meals ticks all those boxes and more. Hot sauce is obviously the number one way to infuse your cooking with heat (sure, we're biased, but we're also right!), but exploring the world of spiced-up veggies makes for a more dynamic menu, and you get a nice nutritional boost too.
Check out these spicy vegetable recipes that will satisfy your body and your heat-hungry tastebuds.
Asian Cucumber Salad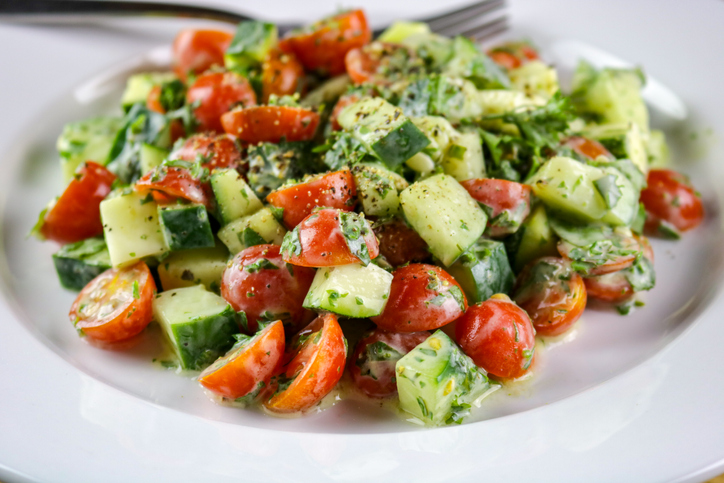 merican cucumber salads have given this hydrating vegetable a bad rap. Blame it on all the mayonnaise and sour cream. But tuck into this Asian Cucumber Salad and you'll quickly discover a whole new world of umami taste and delicious heat.
Zesty garlic, a hint of sugar, crunchy sesame seeds, and lots of chili (you can swap out the powder and oil either partially or entirely and replace it with Ghost Scream hot sauce) — just combine them all with sliced and salted cucumber and a few other seasonings and chill.*
In less than 20 minutes, you have a spicy cucumber salad that's perfect for snacking, as an appetizer, or served alongside marinated meat like Korean bulgogi.
* Pro tip: The true trick to this recipe is in the salting and chilling stage. Letting salted cucumber sit in the fridge gives the vegetables a chance to shed their excess water. Then drain the liquid before adding your seasoning and you won't accidentally dilute the flavor.
Sweet and Spicy Roasted Cauliflower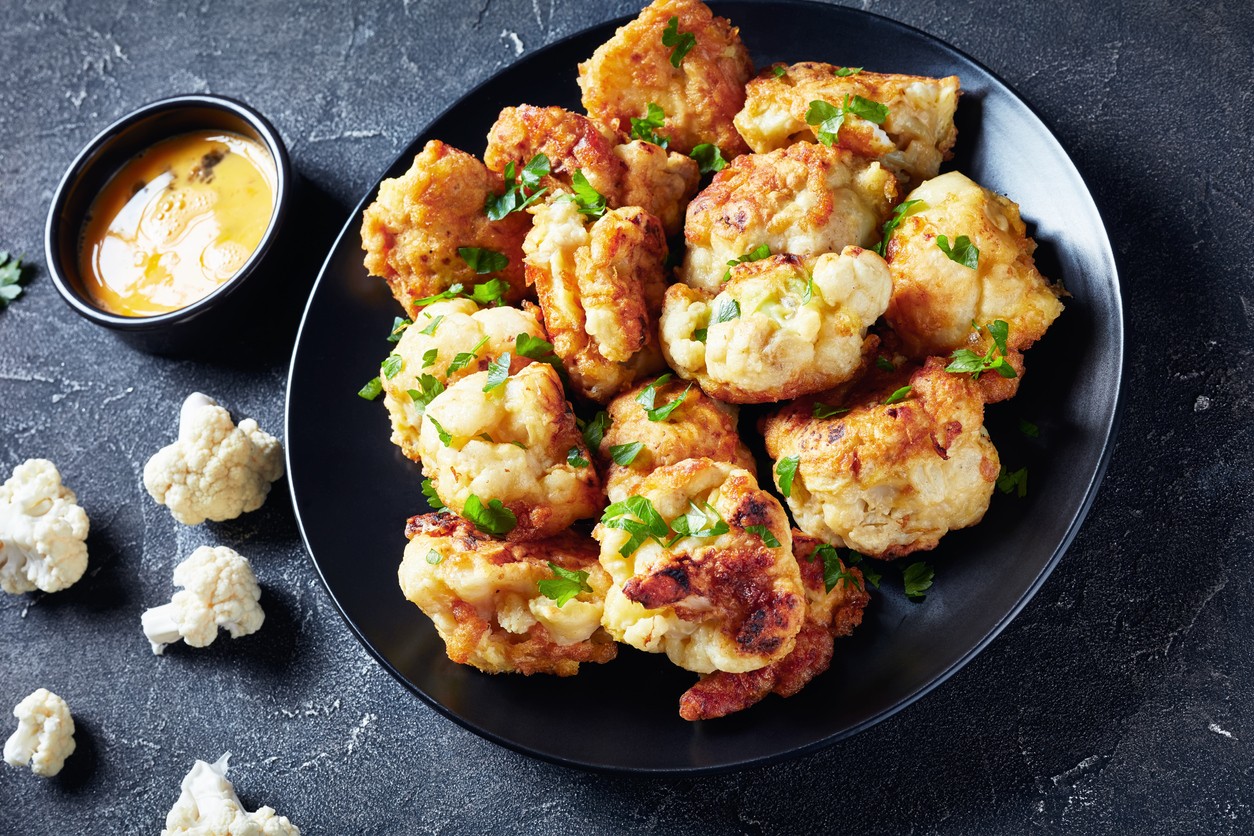 Cauliflower is arguably the hottest vegetable in the produce section these days. Rice it, grill it, steam it, mash it — there's no end to how you can prepare this cruciferous masterpiece, but this recipe for Sweet and Spicy Roasted Cauliflower might take the cake.
This spicy roasted cauliflower dish is so yummy your dinner party guests will never guess how easy it was to make (or how low it is in calories). You just need a head of cauliflower, low-sodium soy sauce, honey, olive oil, lemon juice, sriracha or your favorite hot sauce, minced garlic, and your standard salt and pepper.
It takes mere minutes to toss everything together in a bowl and then lay it out in an even layer on a baking sheet. Roast for about half an hour, then try to resist the garlicky goodness long enough for the cauliflower to cool to an acceptable level. Bonus points if you dip your crispy-tender florets in some blue cheese or ranch like a veggie buffalo wing.
Spicy Brussels Sprouts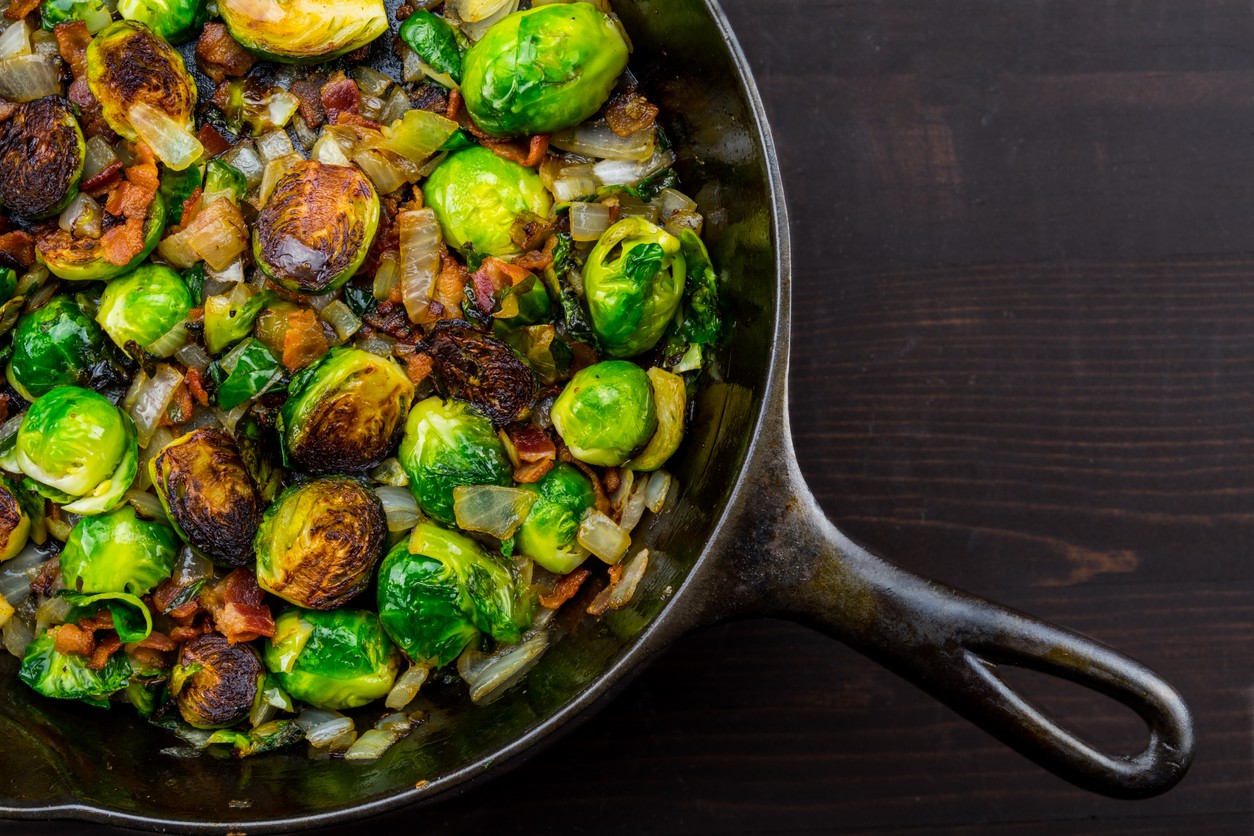 Who hasn't been tortured by a plate of hateful steamed or boiled brussels sprouts just sitting there, soggy and sad, screaming for flavor? Those tortured little cabbage balls from your childhood are banished forever, and in their place are these Spicy Brussels Sprouts, and boy is this recipe a major upgrade.
Unlike the other recipes on this list so far, these sprouts are roasted first with just oil, salt, and pepper. Once crispy, they're removed from the oven and tossed in a spicy sauce made with tangy balsamic vinegar, honey or maple syrup, and your go-to hot sauce. Think of it as a sweet-and-sour spin on what's otherwise a fairly bland veggie.
This dish is super versatile, too. Reach for a traditional hot sauce for a more classic heat-forward result or get creative and use a truffled or curry-infused hot sauce to give your sprouts a decidedly global twist.
No matter how you tweak this recipe, you'll likely find the crispy sprout leaves to be utterly irresistible.
Spicy Chinese Sichuan Green Beans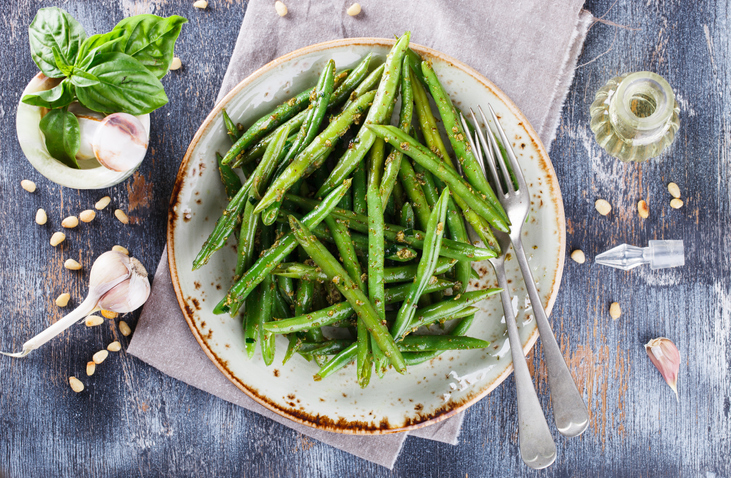 Spicy vegetables so delicious that once you pop you can't stop? That's what you'll find with these Spicy Chinese Sichuan Green Beans.
Roasted green beans take on a nutty flavor that makes them super snack worthy. Now add Ghost Scream Chili Garlic Paste, some thinly sliced green onions and garlic, soy sauce, rice vinegar, sugar, water, and some crushed red pepper flakes for extra heat. Poof! Mouthwatering culinary magic.
While these green beans definitely get their flair from Asian flavors, there's no need to save them to serve alongside a strictly Asian meal. Dress up an ordinary rotisserie chicken with these spicy roasted green beans on the side, pair them with a steak and potatoes, or serve them on coconut rice for a satisfying vegan meal that has spice in spades.
Spicy Broccoli Sauté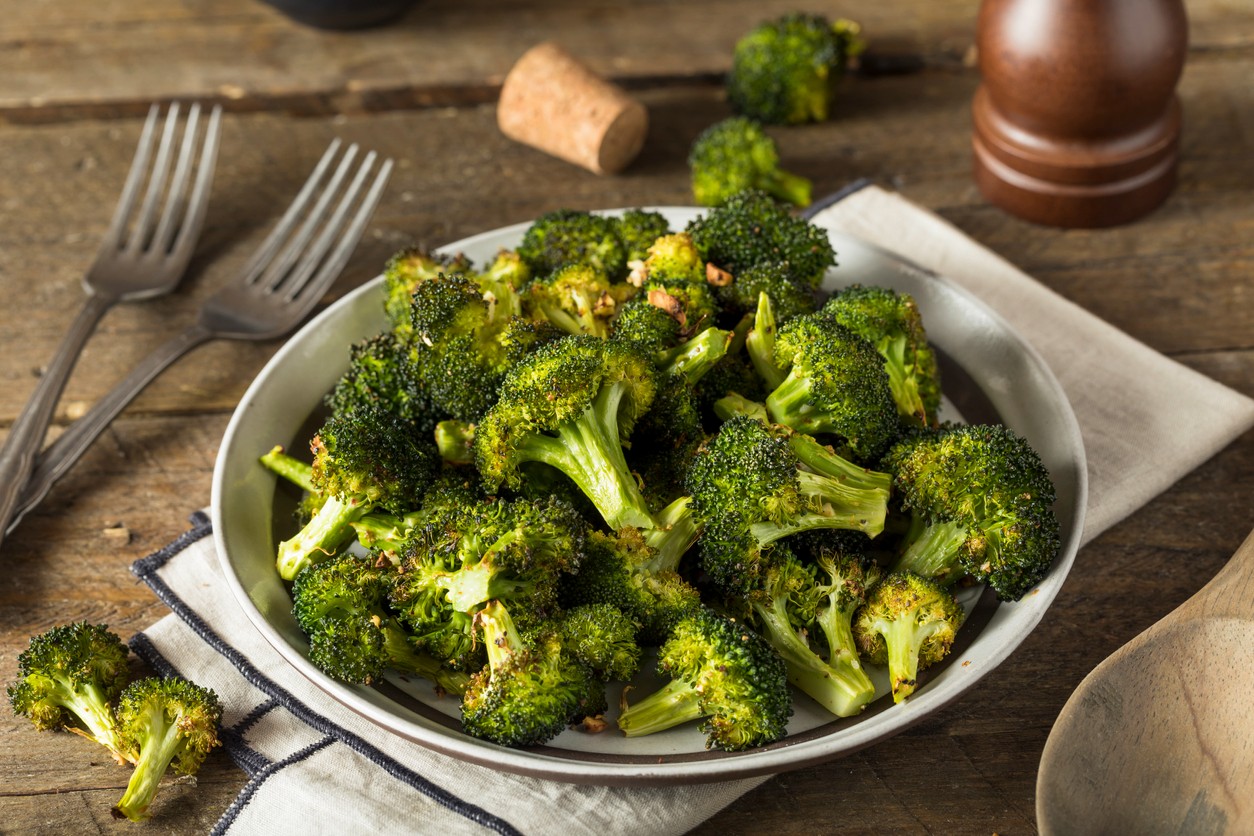 Broccoli is delicious raw, cooked, and pretty much any preparation in between, but try this Spicy Broccoli Sauté from professional chef Aaron McCargo Jr. and you might just discover a new favorite way to enjoy these delectable little green trees.
All you need to make this recipe happen is a large sauté pan and some pantry staples, including olive oil, minced garlic, red pepper flakes (or replace the pepper flakes and garlic with chili-garlic paste for a flavor boost!), broccoli, and some chicken stock.
Simply cut two heads of broccoli into bite-sized florets and set aside. Toss the seasoning in the pan with oil and cook over medium-high heat until the garlic starts to brown or the chili-garlic paste smells warm and fragrant. Add the broccoli, toss to coat in the seasoning mix, and cook until tender. Season to taste, then add the chicken stock and cover to let the broccoli steam to perfection.
Now you have an easy, fresh, wholesome spicy broccoli side dish that brings the heat in a healthy and memorable way. Add some shrimp into the mix and serve over rice noodles for a complete meal that's sure to satisfy the whole family.
Spicy Baba Ghanoush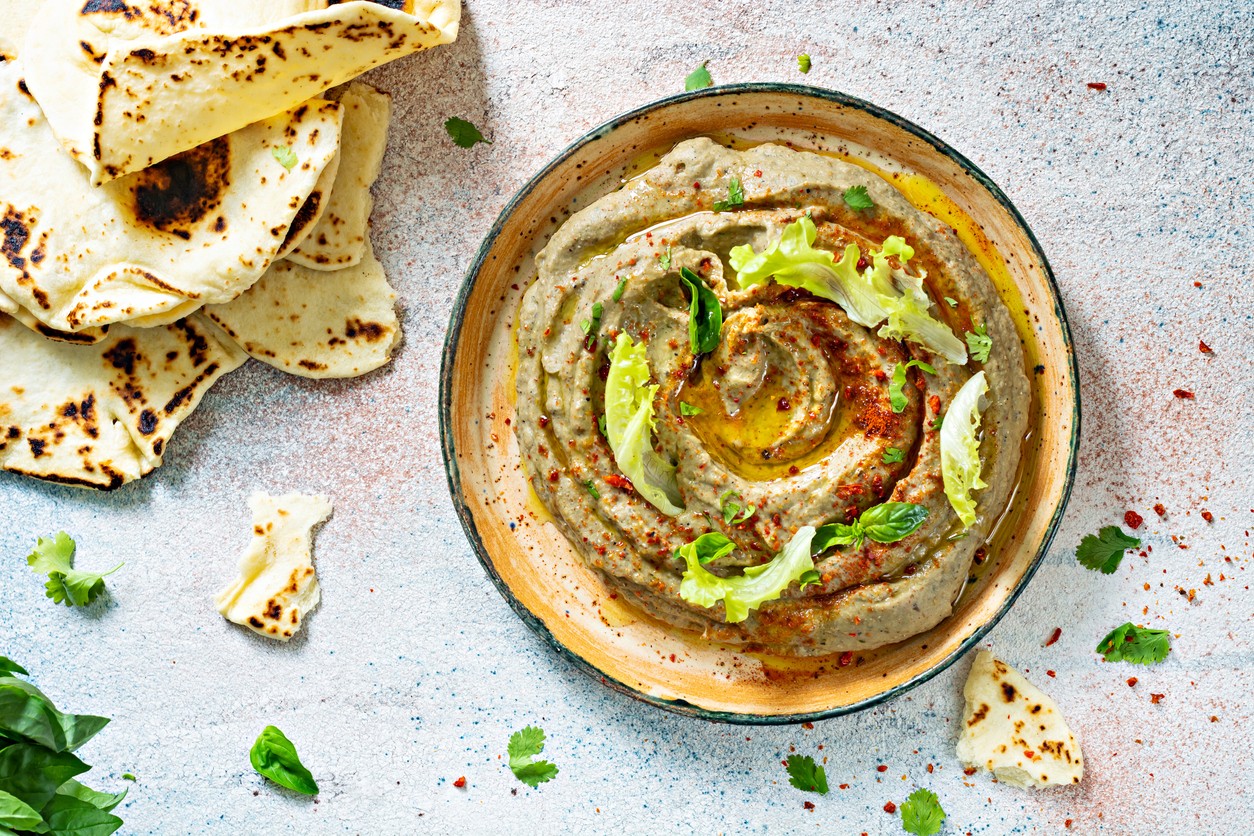 Baba ghanoush is a traditional eggplant dip that originated in the Middle East. This version, a Spicy Baba Ghanoush, requires a little more labor in the kitchen than some of the other recipes here, but the effort is well worth the sensational results.
Start with sliced and grilled eggplant; you can grill it outside, use an indoor grill pan, or even put it in your smoker for a seriously savory kick. Add sliced garlic to the pan, and once both the garlic and eggplant are soft, remove them from the heat and put them in a small bowl to cool. Remove the skin from the eggplant and toss in a food processor or mash by hand, adding tahini sauce, hot sauce, salt, pepper, and lime juice as you go.
Note: If you're using a particularly tangy hot sauce, you might not need the lime juice, so it's best to spice things up and then have a taste test before you slice into the lime or add additional salt and pepper.
Puree until creamy, then serve either warm or chilled with sliced veggies, crackers, and/or pita bread for scooping purposes. This spicy dip also doubles as a condiment. Try it in place of mayo and mustard on your favorite sandwich or tucked into a pita pocket with roasted garbanzo beans, shredded carrot and cucumber, and sliced red onion.
Spicy Kani Salad
Okay, this Spicy Kani Salad isn't strictly veggie based, but there's enough cucumber in the mix to qualify it for this list. Besides, kani salad is one of those dishes you'll try once and instantly fall in love with, so we have a duty to share it with as many people as possible.
Kani salad centers on imitation crab. In fact, the word kani is Japanese for crab but it's usually used to refer to the fake stuff made from white fish like pollock. Still, it's important not to mistake "fake" for "bad." Imitation crab is more affordable than the real stuff, plus it has a sweet flavor and flaky texture that suits a variety of preparations. Including this one.
Here, you'll shred kani or crab sticks and cucumber either by hand or using a food processor until you have a pile that resembles thin matchsticks. In a separate bowl, make the kani salad dressing using Japanese Kewpie mayonnaise, mirin, and your favorite Ghost Scream hot sauce and whisk to create a smooth, creamy sauce. Season to taste, then add to your kani and cucumber and gently toss to coat.
Garnish the kani salad with tobiko and tempura bits and serve. You can even stuff it into a piece of nori to create a hand roll. Either way, in less than 10 minutes, you have a sushi restaurant side ready to enjoy in the comfort of your home.
Bring the Heat with Ghost Scream Gourmet Hot Sauces
Keep your pantry and fridge stocked with Ghost Scream products and you'll always have a fast and flavorful way to turn ordinary vegetables into extraordinary side dishes, snacks, and entrees.
Add Chili Garlic Jam to your chicken and veggie stir fry for a lightning-fast midweek meal that's spicy but still accessible, or combine our Chili Garlic Paste and Original Hot Sauce for layered heat that brings spice and a savory component to roasted carrots or a heaping helping of grilled asparagus.
The most important thing is to embrace the spice and spirit of experimentation. Who knows what delicious dish you'll cook up next!