Posted by Ghost Scream Hot Sauce on Jun 4th 2021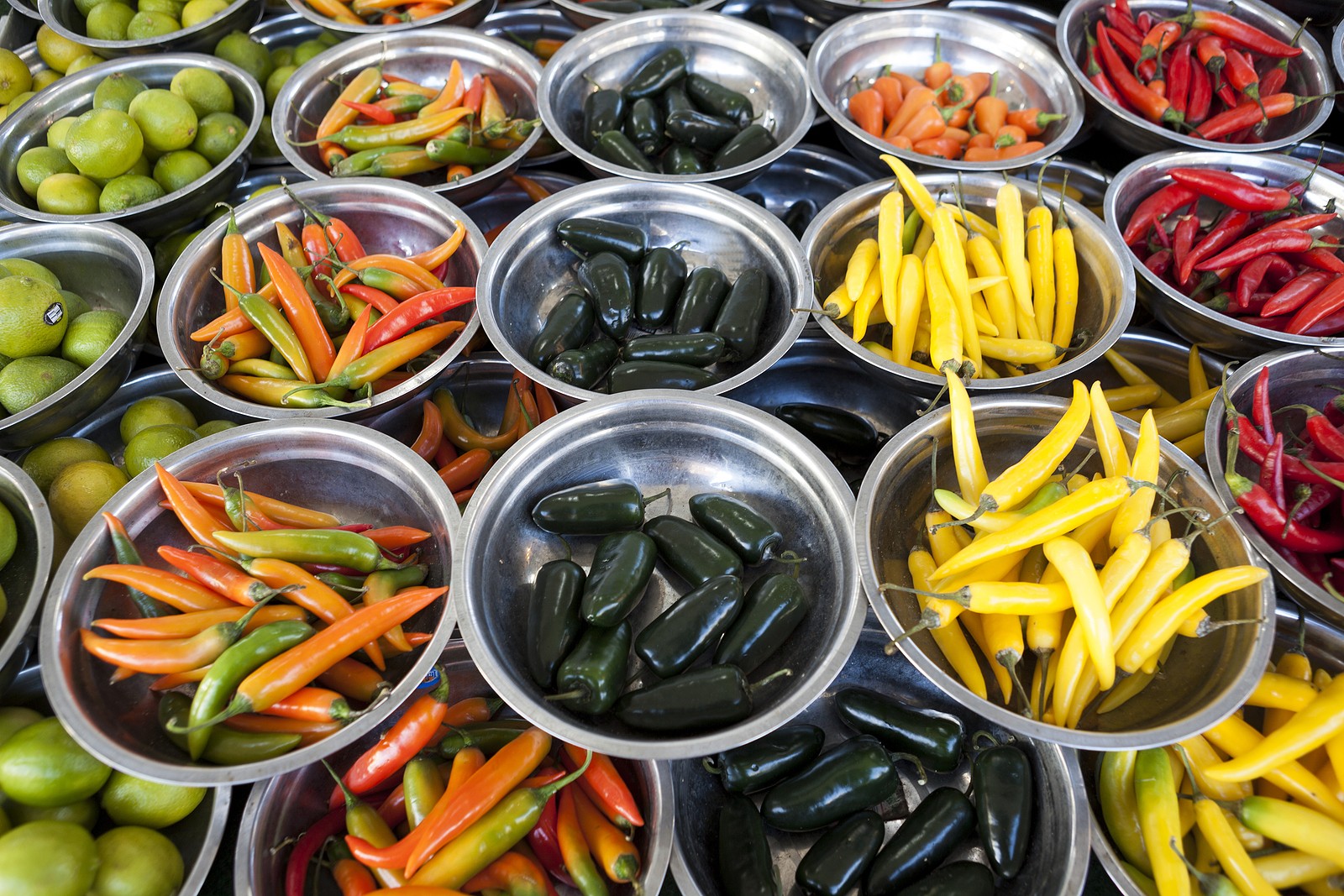 Some like it hot and we agree. However, if you didn't already know, some peppers have a more intense flavor than others. Why is this?
Well, it all comes down to cultivation. With many crossbreeding enterprises popping up, it is becoming more common than ever to see a ton of flavorful peppers with an intense amount of heat.
Keep reading to learn about the ten hottest peppers according to the Scoville scale, a measurement of the pungency of peppers in "Scoville Heat Units".
10. Red Savina - 500,000 SHU
Developed in California, the Red Savina Habanero Pepper is considered the tenth hottest in the world. With a Scoville Heat Unit rating of just over 500,000, it is a commercial favorite for specialty hot sauce makers around the globe. As a fun fact, the Red Savina held the Guinness Book of World Records top spot for twelve years, from 1994 to 2006.
9. 7 Pot Jonah (Red Giant) - 1,000,000 SHU
Originating in Trinidad, the 7 Pot Jonah has a whopping 1,000,000 SHU. The pods are said to grow as large as a tennis ball and can season up to seven pots of meat per pod. This pepper variety is also known for a slightly fruity flavor, which makes it ideal for use in chili sauces and other condiments.
8. 7 Pot Barrackpore - 1,000,000 SHU
Also hailing from the country of Trinidad, the 7 Pot Barrackpore is like the Jonah, but has a bit different flavor. With right around 1,000,000 SHU, it is slightly more bitter than other varieties from the same family line. However, it can grow slightly larger and in less time than other 7 Pot peppers.
7. Ghost Pepper - 1,042,000 SHU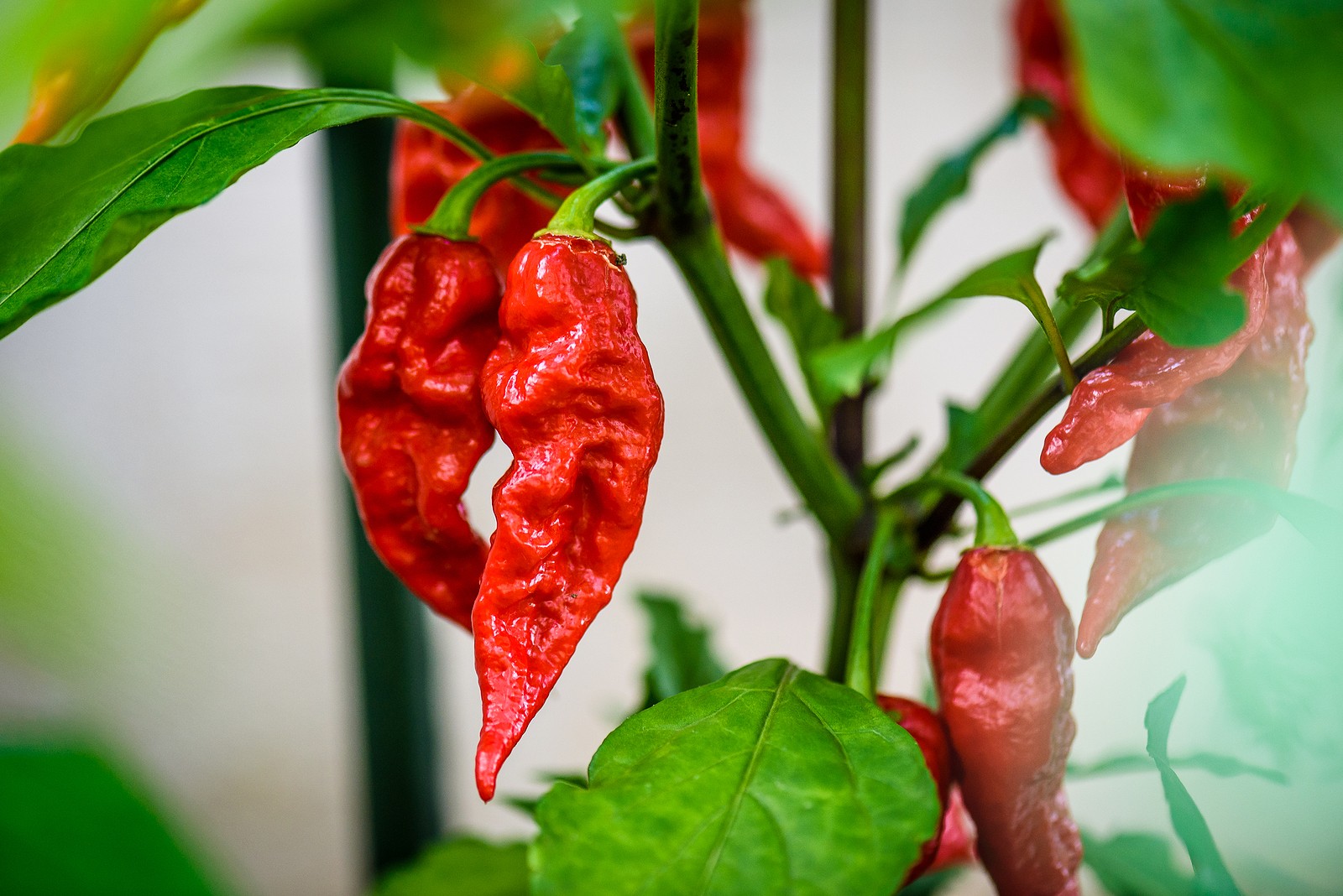 Of course, you already know we're awfully fond of the variety that comes in seventh on the hottest peppers list. The Ghost Pepper ranks around 1,041,427 Scoville Heat Units and is primarily grown in India. From 2006 to 2010, it was deemed the hottest pepper in the world, taking over the title from Red Savina. Of course, sometimes you want flavor and not just an insane amount of heat. That's why we primarily use Ghost Peppers in our gourmet hot sauces.
6. Naga Viper - 1,349,000 SHU
Interestingly, the Naga Viper comes from England, a country that is not typically known for growing peppers. With a Scoville Scale rank of 1,349,000, it is a cross between three other hot peppers: Naga Morich, Ghost Pepper, and the Trinidad Scorpion. It has not competed for the title of the hottest pepper but makes our list.
5. Scorpion Butch - 1,464,000 SHU
If you're looking for a sweet flavor and tons of heat, then you'll love the Scorpion Butch from Trinidad. With 1,464,000 SHU, it took over the top spot on the list of hottest peppers in 2011. These plants often grow over three foot tall, providing a bountiful harvest for those who love spicy peppers.
4. Primo - 1,469,000 SHU
Developed by a cultivator named Troy Primeaux, the Primo Pepper originates from New Orleans, Louisiana. While it hasn't competed for the top spot, the story behind this spicy pepper is quite entertaining. As a member of a local band, Primeaux took a leave of absence to try his hand at pepper farming. The results? Fans of the band decided to market the spicy pepper, making it a Cajun favorite.
3. 7 Pot Douglah - 1,854,000 SHU
Next on the list, we have the 7 Pot Douglah. If you're noticing a trend here, you're right. These 7 Pot varieties come from the same farmers in Trinidad, who have made it their mission to continue to outdo themselves with hotter and hotter peppers. With a whopping 1,854,000 SHU, this one is also called the Chocolate 7 Pot, thanks to a dark purple-like exterior.
2. Moruga Trinidad Scorpion - 2,009,000 SHU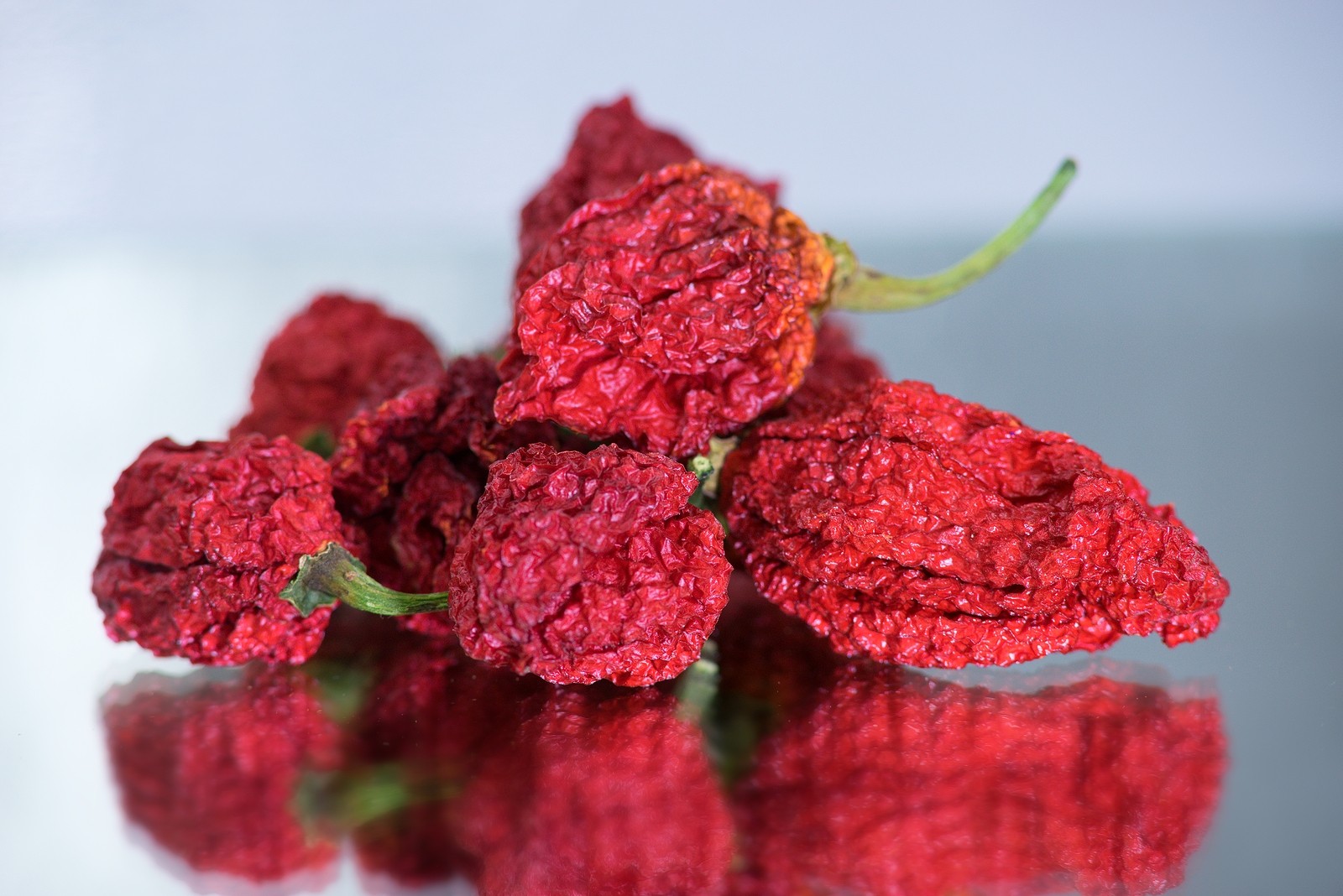 The Moruga Trinidad Scorpion is a specialty pepper deemed the world's hottest in 2012. Later overtaken by the Carolina Reaper, it is known for having a fruity sweet or cotton candy aroma. However, the massive 2,009,000 SHU makes it far from enjoyable as a treat! The moderate size and intense flavor make it easy to use for sauces or other recipes.
1. Carolina Reaper - 2,200,000 SHU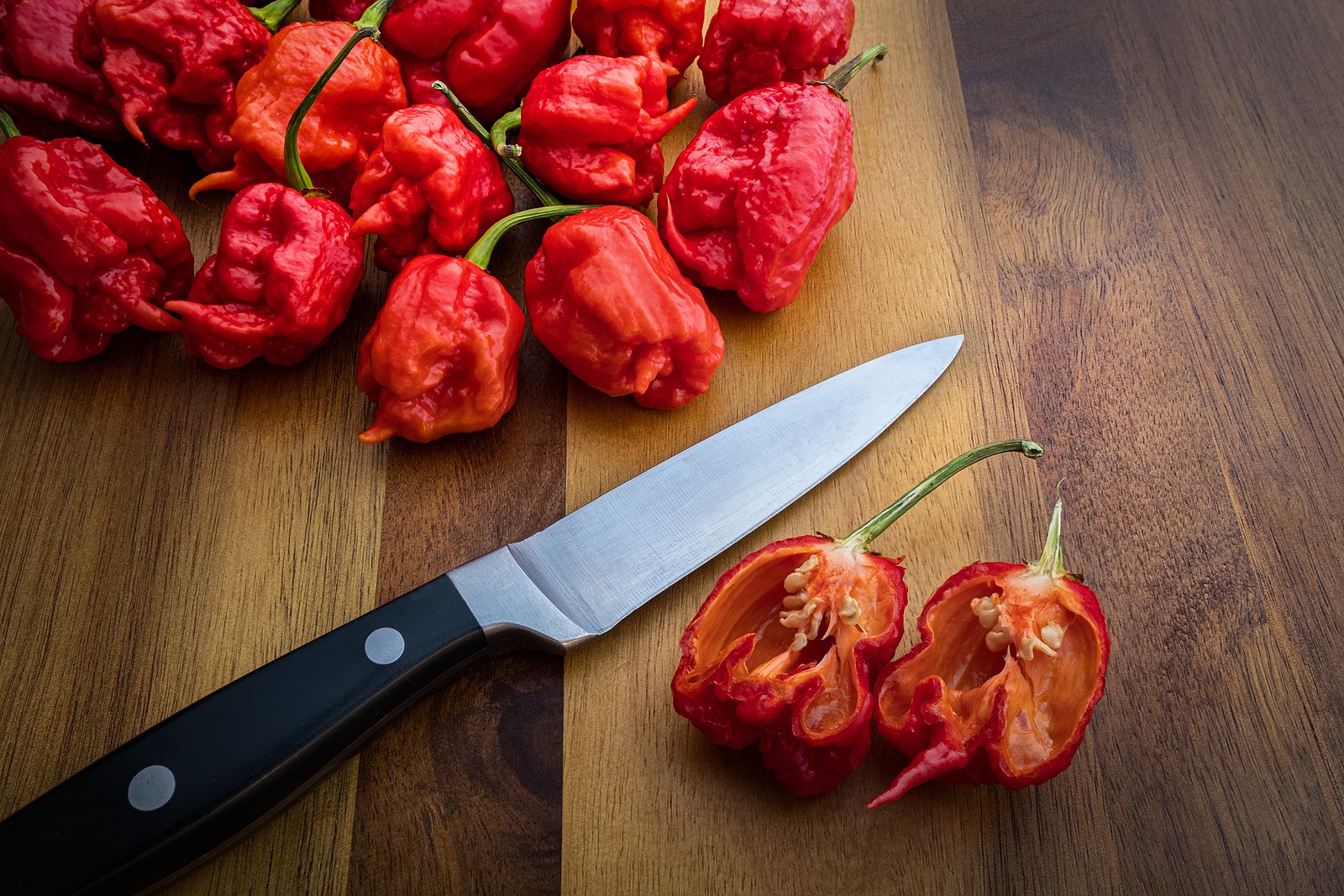 Deemed the hottest pepper around in 2013, the Carolina Reaper comes in at the top on this scale with a massive 2,200,000 Scoville Heat Units. Developed in South Carolina, the intense flavor has garnered this pepper tons of attention over the last few years. Despite the extreme heat level, it is said to have a bit of a cherry or chocolate undertone, which is why it has really gained popularity for use in specialty hot sauce products.
Try Our Ghost Pepper Gourmet Hot Sauces
Are you feeling adventurous? Then you'll love trying out the 10 super-hot pepper varieties we've included on this list. In fact, we have multiple options in our hot sauce store for you to try out.
Our Original Ghost Pepper Hot Sauce contains (you guessed it!) ghost peppers. In addition, we have a truffle hot sauce variety that features the wonderful flavor of black truffle oil.
If you're looking to try out the Carolina Reaper, you'll love our Ghost Reaper Hot Sauce. As one of two green hot sauce varieties we offer, it is one of the spicier options in our verde hot sauce inventory.
Itching to try out the Moruga Scorpion pepper? Then you'll love our Ghost Scream Vindaloo Curry Hot Sauce. It contains fresh Moruga Scorpion peppers, plus curry powder and honey.
Conclusion: The Hottest Pepper Varieties on the Planet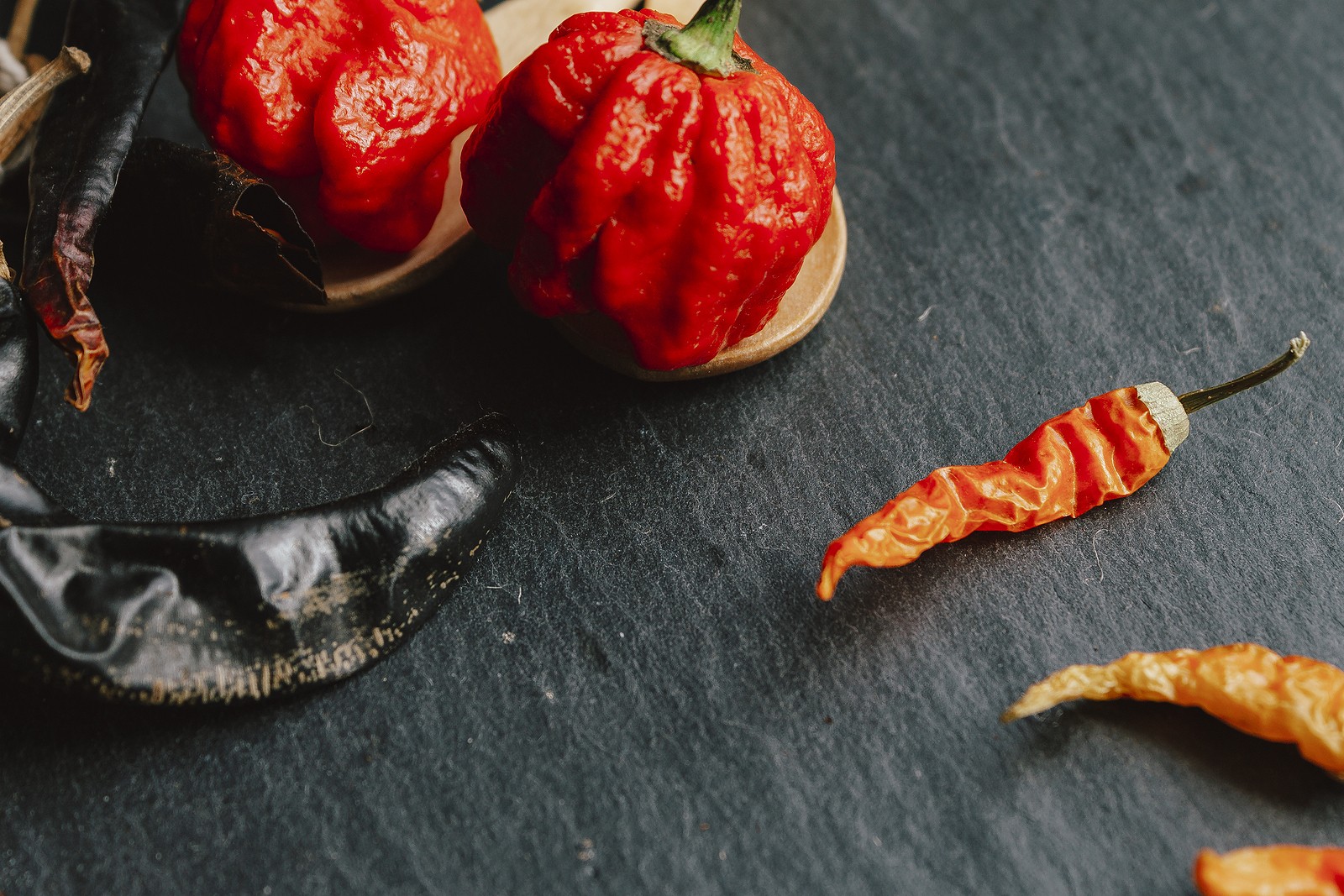 The toughest part about ranking the top pepper varieties on the planet by Scoville Scale is that the list is constantly changing. As new farmers and cultivators get in on the goal of trying to outdo each other, hotter peppers are becoming available. But that's okay! We'll be here to create new ghost pepper sauce recipes featuring these new creations.
While the information presented here is based on 2020 standards, there's no doubt that summer crops this year will likely yield even hotter variations. Stay tuned to find out if the Carolina Reaper is bumped or it can hang on another year at the top spot!