Posted by Ghost Scream Hot Sauce on Jan 26th 2022
Excited about the start of 2022? As a foodie who enjoys all things spicy, now is a good time to get into the kitchen and try out a few new fun and flavorful recipes.
After all, life is too short to eat boring foods, right? Trying out something new and adding your own kick of flavor with ghost pepper sauce is definitely a good way to go.
To help you out, we've compiled a few of our favorite appetizers and dip ideas using our Ghost Scream gourmet hot sauce. These ideas are great for a Superbowl Party or summer barbecue.
While each one is great alone, we've added a few additional hints to give you a bit more of a unique flavor and the heat level that you enjoy most.
Ready to dive in? Here are a few of our favorite spicy dip recipes to try out this year.
Buffalo Chicken Dip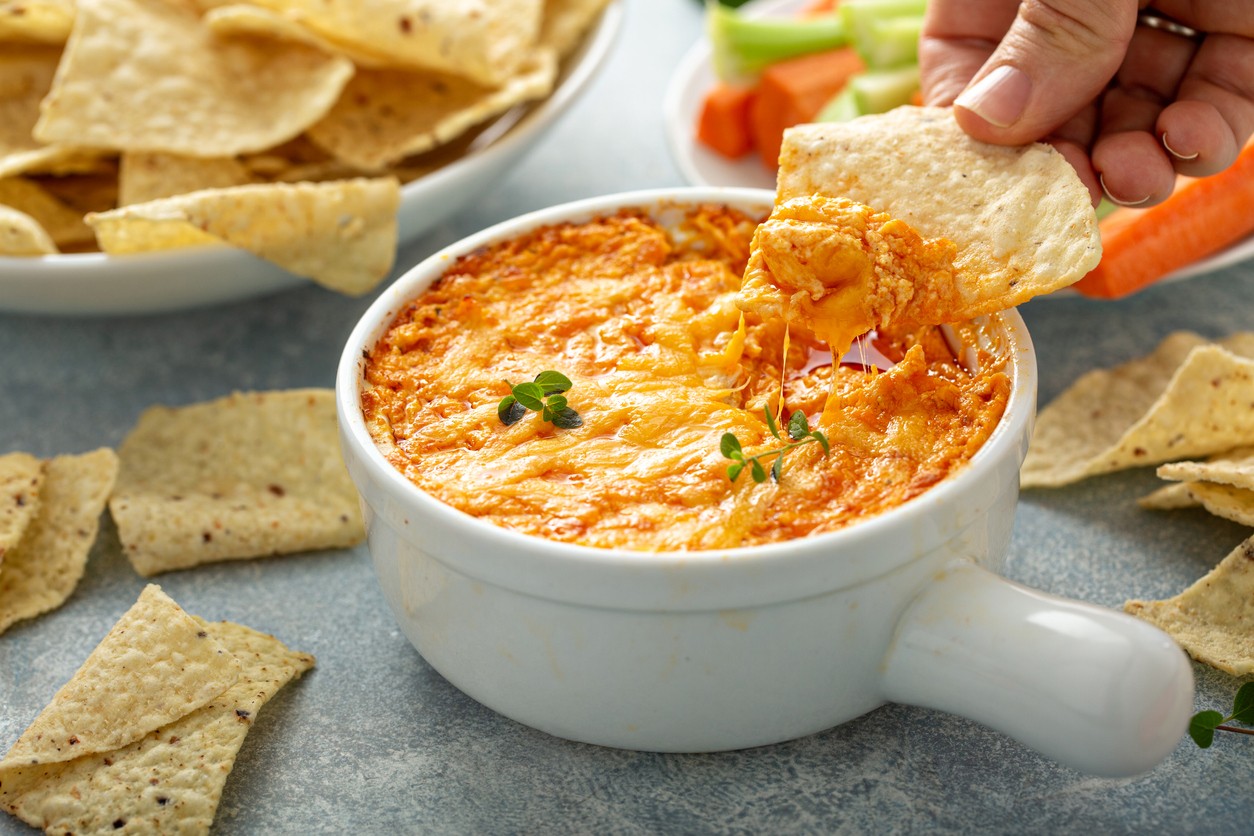 There's something so satisfying about a baked dip. Maybe it's the way the melty cheese mingles with the flavors of the sauce and the chunks of shredded chicken, but this buffalo chicken dip recipe from Cafe Delites is one of our favorites.
The ingredients are fairly simple and include sour cream, a block of cream cheese, shredded rotisserie chicken, and cheddar cheese. We also recommend blue cheese chunks and green onion as a topping.
However, with this spicy buffalo chicken dip, we're adding a bit of an extra kick by omitting the traditional buffalo sauce and using Ghost Scream Original Hot Sauce instead. If you're so inclined, you can also mix the two together to come up with your ideal heat level.
It's even cooked in a cast iron skillet to give you that melty, cheesy texture along with the heat of the hot sauce. Serve with a sliced baguette, veggies, or even chips. This would even go well as a topping for a grilled chicken breast, too.
It's a great recipe for all sorts of events—from watching the game with a few friends to bringing it to a neighborhood block party or family event. We also like that this dip is hearty enough to really stand alone, if desired. Just grab a bowl and eat it like chili. (Not that we've done that or anything. Errr…ahem. Moving on.)
Mexican Corn Dip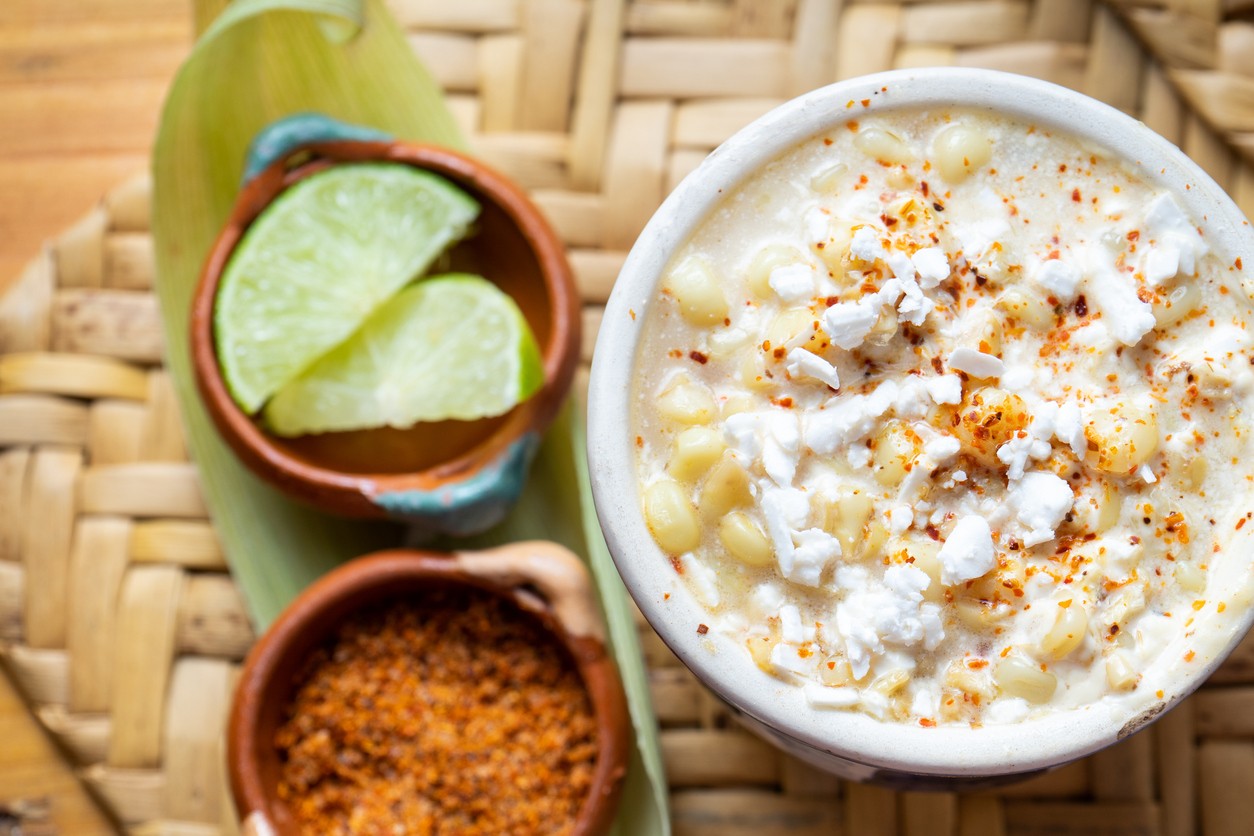 If you always look for the Mexican street corn vendor at any event, then you'll really love this spicy corn dip recipe from Damn Delicious. It is super easy to put together and the coolness of the dip goes really well with the spiciness of our gourmet hot sauce.
The ingredients are fairly simple. Butter, corn kernels (frozen, fresh, or canned), mayonnaise, and crumbled cotija cheese serve as the base. Then you add in a seeded jalapeno, fresh cilantro leaves, juice from a lime, chili powder, and garlic. For the added bite, we suggest our Ghost Scream El Verde Hot Sauce to taste.
Mix everything together and allow the flavors to mingle in the refrigerator. Best is overnight, but it can be ready in just a few hours, too. It makes a great accompaniment for taco night, a Cinco de Mayo party, or wherever else you want to bring a little bit of spice to your life.
What do you serve with spicy corn dip? Naturally, tortilla or corn chips. But it also makes a great addition to a taco salad or with grilled chicken. Of course, even a spoon works well—it's that good!
Tirokafteri (Spicy Feta Dip)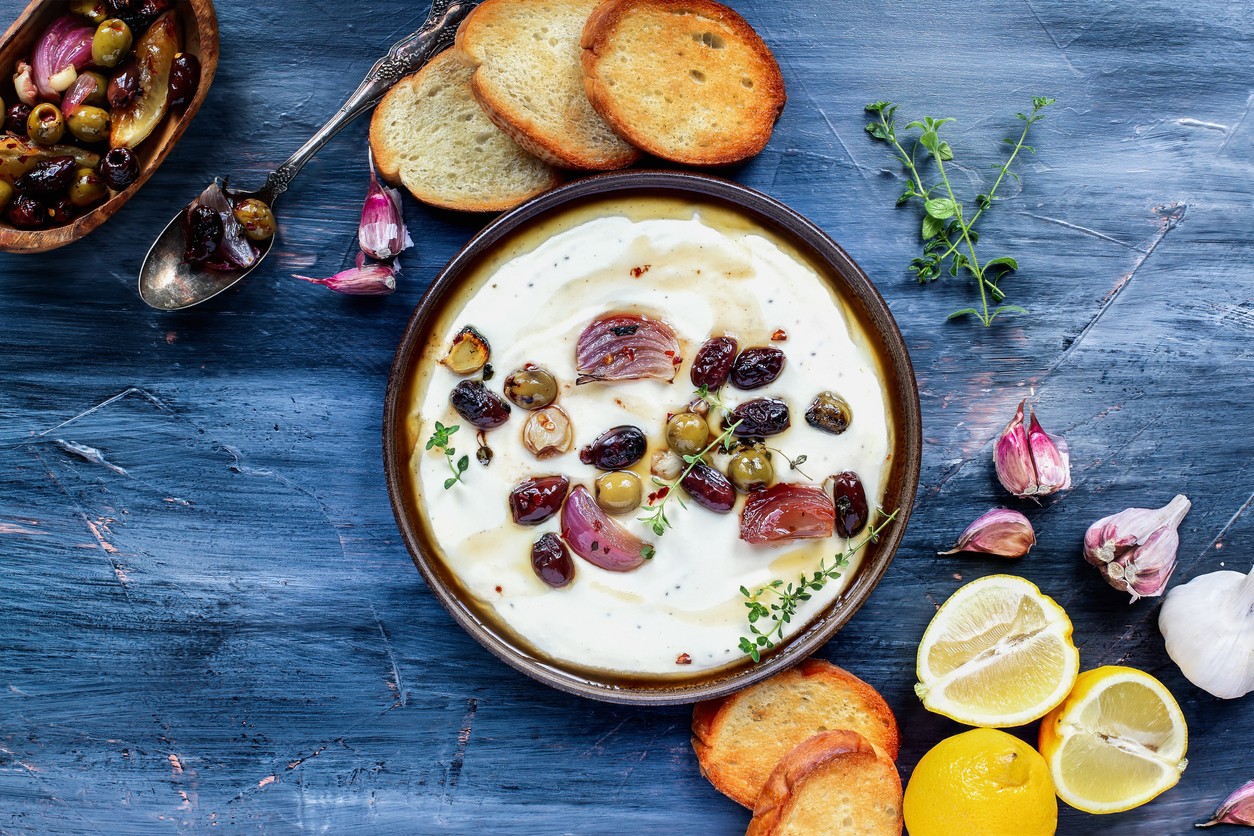 It's a new year… Why not enjoy a little international flavor? If you're looking for a good Tirokafteri recipe, we found this excellent one from Gimme Some Oven. It pairs the excellent saltiness of crumbled feta, red pepper, and kalamata olives for a taste you're sure to love.
The ingredients in the recipe include crumbled feta, roasted red peppers, olive oil, red wine vinegar, and a small clove of garlic. Add in crushed red pepper flakes and a bit of Ghost Scream Ghost Truffle Hot Sauce to meet your desired heat level. Place everything in the blender and puree it up.
The best part is that this spicy feta dip keeps for up to three days in a sealed container, meaning you can make it ahead. Serve with naan, pita bread, chips, or crusty bread. It also makes a great topping for pasta, too.
In fact, we can think of tons of ways to use this dip as an ingredient in a meal or as a secondary appetizer. Everything from topping a pork tenderloin to acting as a spread on a turkey wrap.
Want to take things up a notch? Spread a little on French bread slices and bake in the oven until melted. It's a delicious recipe with tons of flavor that your guests and family are sure to love.
Spicy Crab Dip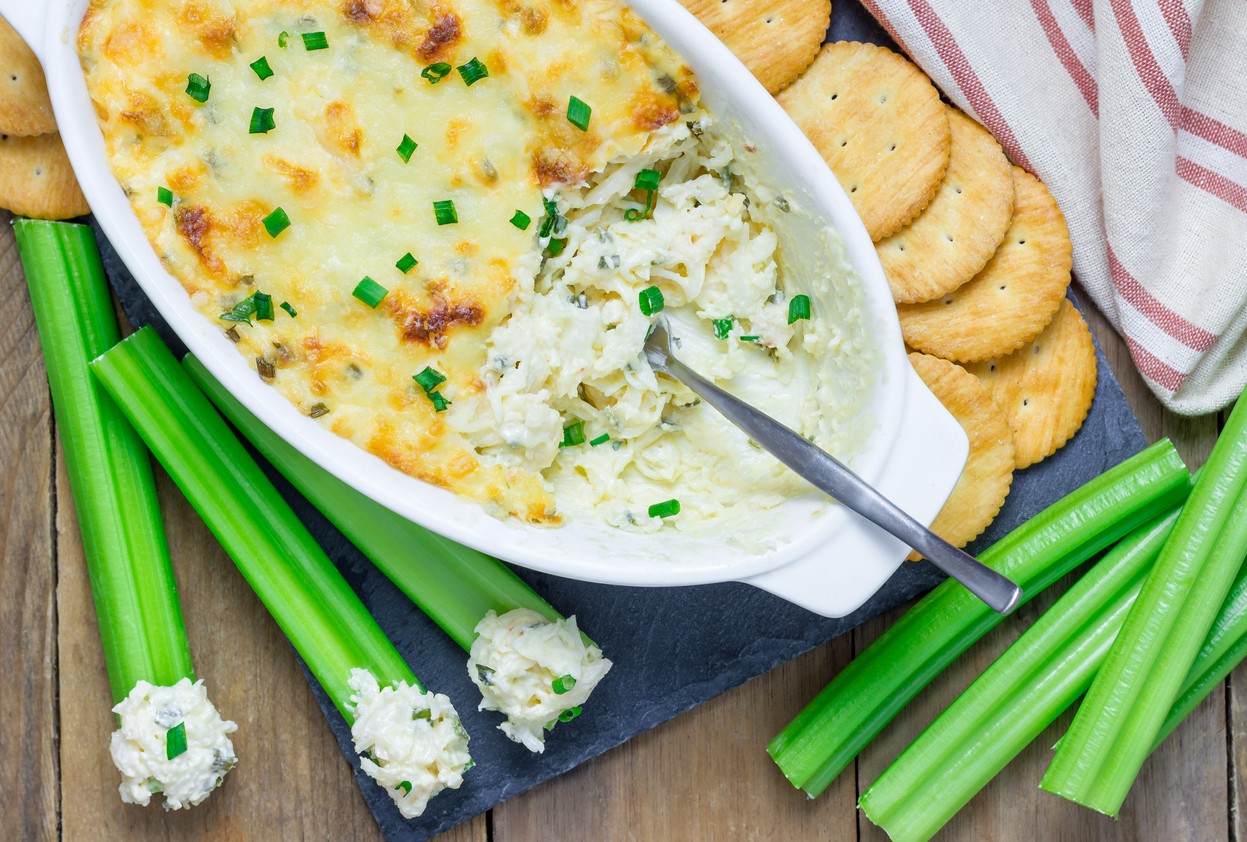 Ahoy, matey! Love seafood? Then you'll really enjoy this spicy crab dip recipe from the Recipe Critic. While the original recipe doesn't call for hot sauce, we feel that it makes a perfect accompaniment with the coolness of the dip base.
Start by combining softened cream cheese, sour cream, and mayonnaise. Mix in finely shredded cheddar cheese, garlic powder, paprika, and Worcestershire sauce. Add in lemon juice, salt, and pepper. Then add in your favorite Ghost Scream gourmet hot sauce to get your desired level of kick. Finally, fold in the lump crab meat.
Bake everything in a 350-degree oven until hot and bubbly. Serve with sliced French bread, tortilla chips, or butter crackers
For those who are a big fan of seafood, this dip is really a crowd pleaser. In fact, you'll probably find yourself making a second batch when the first one is gobbled up by your party guests right away!
Need an alternative that doesn't include seafood? Consider using rotisserie chicken and switching out the lemon juice for lime juice. The flavors come together just beautifully, making it a good choice for those with dietary restrictions and/or food allergies.
Spicy Spinach and Artichoke Dip
When it comes to hot dips, there's really nothing more classic than the traditional spinach and artichoke dip. However, at Ghost Scream, we love taking things just a bit over the edge of ordinary with our fantastic Ghost Pepper hot sauce blends.
For example, let's look at this classic artichoke spinach dip recipe from Tastes Better from Scratch. It combines sour cream, cream cheese, mayo, and parmesan cheese. Then add artichoke hearts, frozen spinach, and dill weed to the mix. Finally, amp things up with your favorite Ghost Scream sauce. (We like our traditional hot sauce, but to each their own.) Pour everything into a casserole dish and bake until bubbly.
The coolness of the dairy with the heat of the hot sauce just equates to a ton of flavor. Additionally, you can mix in a package of dry ranch dressing mix to the whole thing for a little more tanginess, too.
As a word of caution, make sure you try to get the veggies in this recipe as dry as possible. We've found that if you can put the spinach and chopped artichoke heart pieces into cheesecloth or a dish towel and squeeze out as much liquid as possible prior to cooking, it leaves you with far more flavor to enjoy.
Spicy Cheesy Crack Dip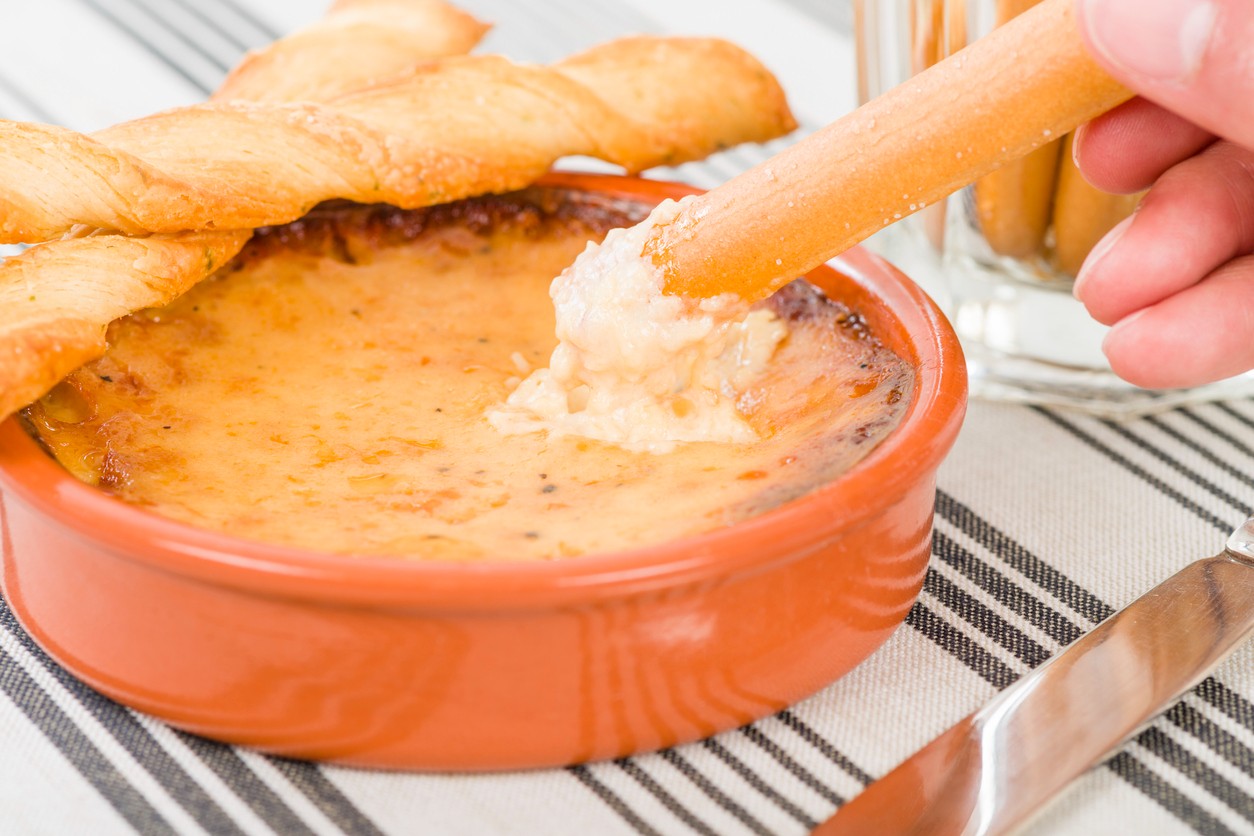 If you're looking for a warm, cheesy dip that's ooey, gooey, and delicious, then you'll adore this recipe from Real Housemoms. After all, who doesn't love things like bacon, cream cheese, or ranch? And the Ghost Scream ghost pepper hot sauce adds an extra flavorful kick.
Start with a brick of softened cream cheese. Add one envelope of ranch dressing mix, three-ounces bacon bits, two cups shredded cheddar cheese, and sixteen-ounces of sour cream. With this recipe, full-fat dairy products are best.
Mix it all together. Toss in a bit of Ghost Scream Original Hot Sauce to the bowl. Preheat your oven to 400-degrees and pour the dip into a greased casserole dish. Bake for twenty to twenty-five minutes or until bubbly.
Once out of the oven, add diced green onions and more ghost pepper sauce. Serve with vegetables, chips, crackers, or even flatbread. In fact, this stuff is so good that you'll probably just want to add it to a bowl and eat it with a spoon. It also makes an incredible topping for a hearty bowl of chili.
Add Ghost Scream Hot Sauce to Your Spicy Dip Recipes
If you're looking to improve your next dinner party, family event, watch party, or other gathering, then you'll love trying out these spicy dips in your own kitchen.
In fact… Who are we kidding? Each one tastes so good that you'll want to stock up on Ghost Scream and start making them to go along with dinner or just for fun on the weekends during those Netflix binge sessions.
To learn more about our Ghost Scream gourmet hot sauces, please browse our online hot sauce store. And… Have a safe, healthy, and happy 2022!