Posted by Ghost Scream Hot Sauce on Jul 28th 2021
Meats, cheeses, fruits, nuts, jams, and chocolates – who doesn't love a good Charcuterie board? Charcuterie boards are becoming more and more popular as people start to fall in love with the art of Charcuterie and all of the delicious variety of foods we love to style on the board. So what is "Charcuterie" anyways? The word Charcuterie is a French word for a branch of cooking devoted to procured meats, but over the years Charcuterie boards have evolved into something much more exciting than just "procured meats."
If you're about to make your first Charcuterie board or need some ideas to spice things up a bit, then we have some great suggestions for you to create the perfect Charcuterie board.
The Foundation of the Charcuterie Board
The great thing about Charcuterie boards is that you can make them as big or small as you'd like and they can be presented on any flat surface. Of course you can buy a wooden Charcuterie board, but any flat plate, serving platter, cutting board, etc. will work just fine. Once you've picked your serving board, the next step is to pick out how many bowls you'll need. Most Charcuterie boards include a variety of dips, spreadable cheeses, jams, or preserves. Aside from jams and dips, there's a lot smaller foods that work great in bowls like nuts, mozzarella balls, olives, and grapes. Whatever foods you choose to present on your board, you'll end up needing a small bowl or two!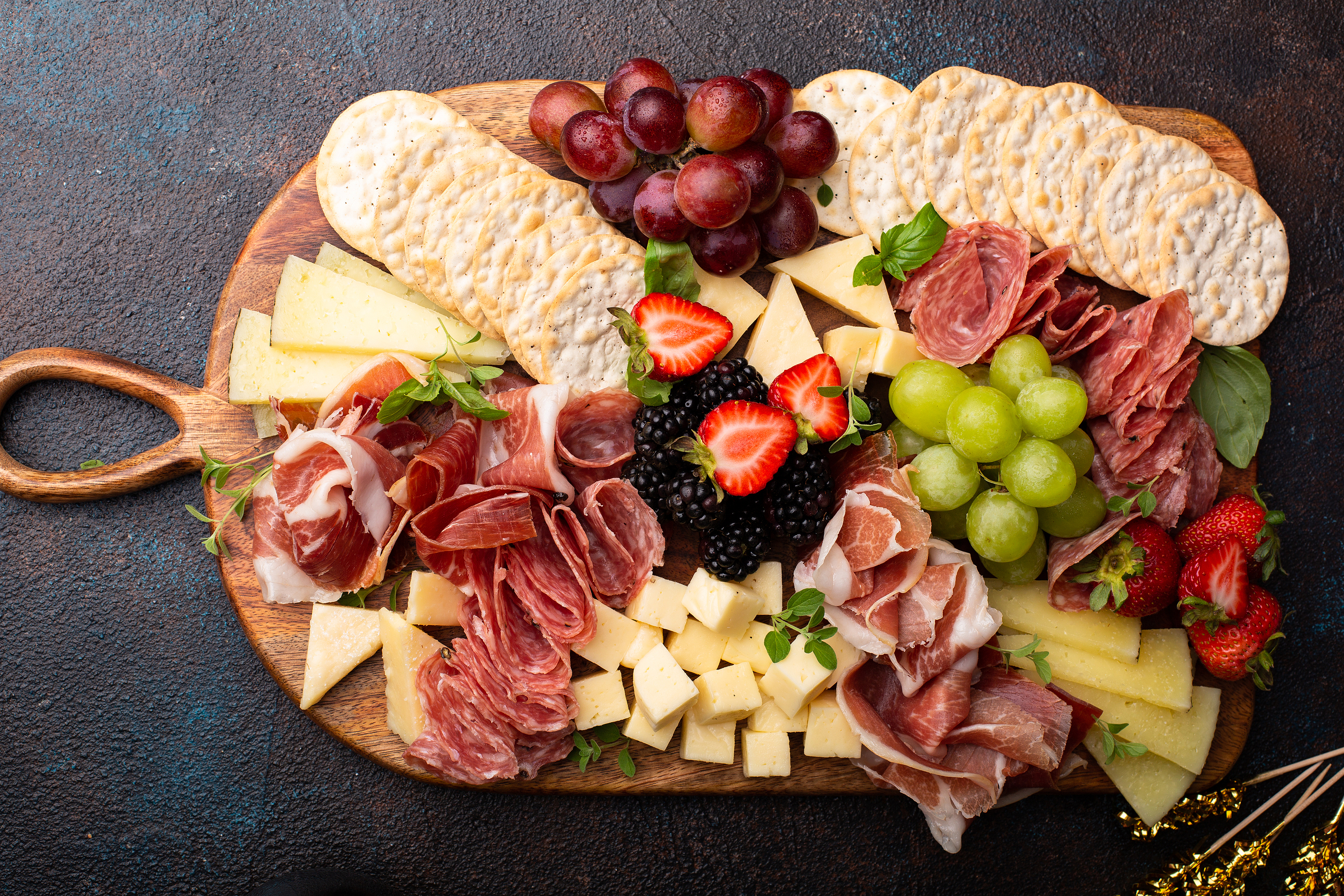 Foods To Put On Your Charcuterie Board
When deciding what types of foods you want to present on your Charcuterie board, just stick by this Rule of 4 – sweet, savory, salty, and spicy. Let us guide you through these 4 key flavors to get the most delicious and well-balanced experience! We'll even provide some great options if you want to spice up your board with our Chili Garlic Jam, Spicy Artisan Chocolates, and Smoked Salt.
SAVORY – Meats and Cheeses

Starting your Charcuterie board with savory meats and cheeses is always a great first step. We like to use a variety of hard and softer cheeses. Your soft cheese could be a whipped honey goat cheese or a wedge of brie and your hard cheese could be a block of aged cheddar or gouda. Next, your meats can be a variety of procured meats. Our personal favorite meats to use are Italian salami (regular or spicy), prosciutto, and mortadella. Another extremely important component of your Charcuterie board is crackers or bread. Any flavored cracker like Rosemary or the Garden Veggie Triscuits, the classic entertainment crackers, and sliced bread pieces from the bakery would be more than enough options to choose from.
SWEET – Fruits, Candies, Chocolates, and Jams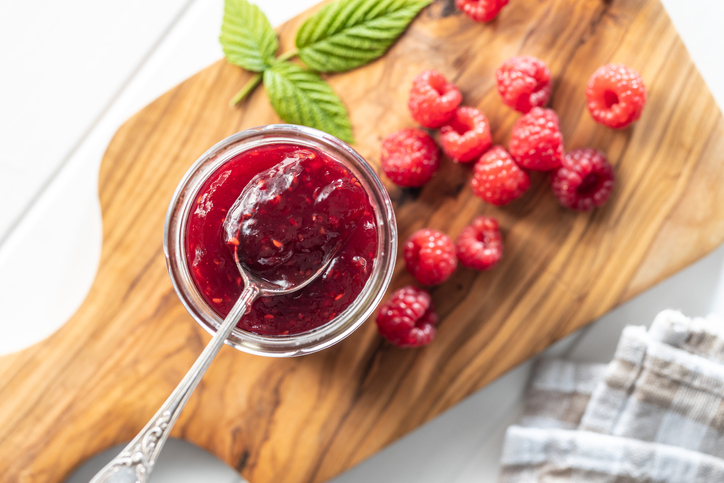 Next up is sweets! There's a lot of great options to choose from when you're deciding what sweet treats you want to incorporate. You can never go wrong with adding some fresh fruit like grapes or apple slices to fill the gaps in your board or serving up some delicious candies. One of our personal favorite sweet treats to add to the board is our Ghost Scream Spicy Artisan Chocolate. This spicy chocolate will definitely wow any guest you might be serving this Charcuterie board to, especially since it is made with our Vindaloo Curry Hot Sauce. The second flavor is a balsamic with a Reaper Pepper caramel center surrounded in dark chocolate. If you want to steer clear of spicy or chocolatey flavors, then we recommend adding a berry jam or spread that will go great on crackers.
SALTY – Nuts, Veggies, and Smoked Salt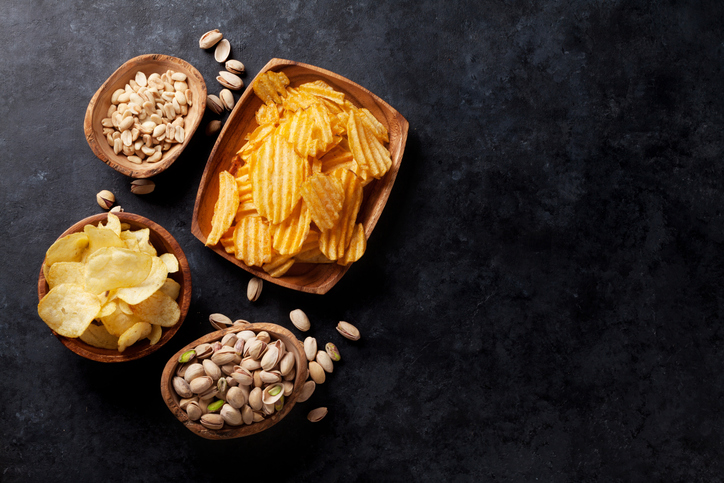 Nothing beats a salty snack. If you've already picked out your meats and cheeses, we suggest making sure to incorporate a salty meat or cheese to add some extra flavor. One of the best ways to incorporate saltiness into your board is adding some nuts to fill in some of the gaps in your board. For nuts, we recommend pistachios, peanuts, or almonds and sprinkling some of our Ghost Scream Smoked Salt on top for some extra kick. If you want to go for a healthier option, adding the Smoked Salt to sliced cucumbers is always a nice touch. Another must have in this category is olives. You can't go wrong with adding olives to your board and there's so many to choose from. Between green olives, feta or blue cheese stuffed olives, and kalamata olives, you'll be good to go by choosing any of these options.
SPICY – Chili Garlic Jam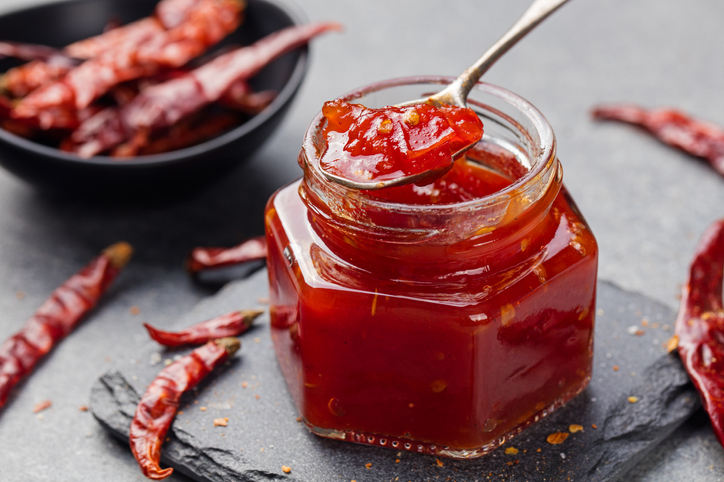 If you like to bring on the heat just as much as we do, then you'll be glad you added our Chili Garlic Jam to your Charcuterie board. Our Chili Garlic Jam is sweet, spicy and smoky – the perfect combination of flavors. Our Chili Garlic Jam will pair with just about anything on your Charcuterie board. Smear the jam on a cracker and add any meat and cheese for the most flavorful bite. Some other spicy options to consider is a pepper jack cheese, habanero cheese, and just about any spicy cheese. No matter what type of spicy element you decide to incorporate into your Charcuterie board, it's guaranteed to add some pizzazz to your masterpiece.
Whether you're hosting a party, wine night, or having a romantic night in with your partner, a Charcuterie board is the perfect appetizer or main course depending on the occasion. With that being said, a Charcuterie board will never disappoint you or your guests. Grab a glass of pinot noir and enjoy all of the sweet, savory, salty, and spicy flavors that you have incorporated in your masterpiece of a Charcuterie board.